Projekt ukončen, aktivity sítě pokračují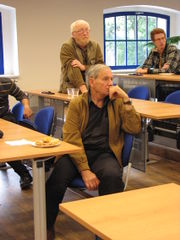 Czech and German students and staff from Charles University and Leuphana University of Lueneburg presented their findings from a sustainable development summer school dedicated to understanding stakeholder dynamics in the Ore Mountains and Most region in the town of Litvinov on 7 September 2012. Members of the public and media were invited to participate in the presentation in the auditorium of the Centre for Bachelor Studies at Schola Humanitas - a secondary school specialising in environmental education.
About 10 members of the public, including officials from the Most municipal council and from Destinační agentura Krušné hory o.p.s., and media, listened to student perspectives on sustainable development challenges in the Ore Mountain region, including the historical and present day problems associated with brown coal mining and the population expulsions that had occurred in the former Sudetenland both prior to and after the Second World War.
The presentations explained in some detail the goals of the summer school, the methodology used, the tasks the students were set, and what their ultimate outcomes were in the form of possible strategies for the region for dealing with the localised challenges of the three pillars of sustainable development. Those members of the public who remained at the end of the presentations were very interested in the results of the students' work and engaged in a long discussion with them. A summary of the many presentations can be viewed here.